What are they?
Supporting cages are metal structures that provide backing for filter bags in the industrial dust collection process.
Remark-Kayser offers supporting cages as well as accessories such as venturi nozzles and flanges necessary for the proper installation of filter bags. Supporting cages are available in a wide range of designs and material types.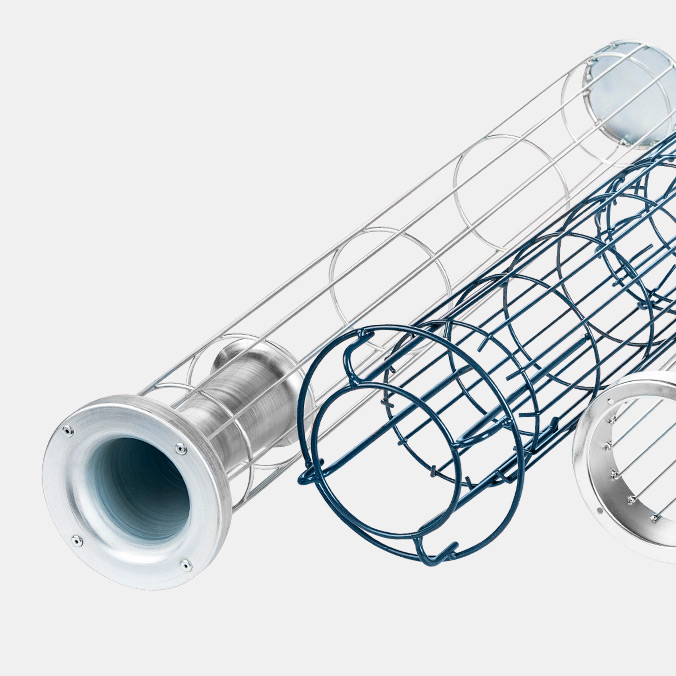 Materials
The most common types of steel:
carbon steel
Stainless steel (1.4307, 1.4404 and others)
The most common types of steel treatments:
pre-galvanizing
dip galvanizing
cataphoresis
pickling and passivation
Designs
We offer our customers supporting cages in the most common constructions, including round, oval, flat and star-shaped cages, as well as the most popular types of connections, e.g:
claw joints
ring joint
Bayonet type
The design of the supporting cage should, as a rule, provide a solid support for the filtering material in order to maintain the optimum filtering surface provided by the unit design. It should also ensure that the filter material works properly during subsequent cleaning cycles.
Thus, the distance between the longitudinal bars and the horizontal rings as well as the thickness of the elements are important design parameters.
In the case of filter bags made of materials with specific mechanical parameters, such as PTFE or glass fabric with a PTFE membrane, special care must be given to the parameters of the support cage design. It is important to select the material of which the support basket will be made (thermal and chemical requirements) as well as to ensure a close dimensional fit of the filter bag to the support cage. This last element is a prerequisite for trouble-free operation of the filter bags over a satisfactory period of time.
Packaging
Based on many years of experience, we have developed a packaging system for the support cages that ensures adequate protection for road, rail and sea transport and allows the goods to be stored without loss of quality.